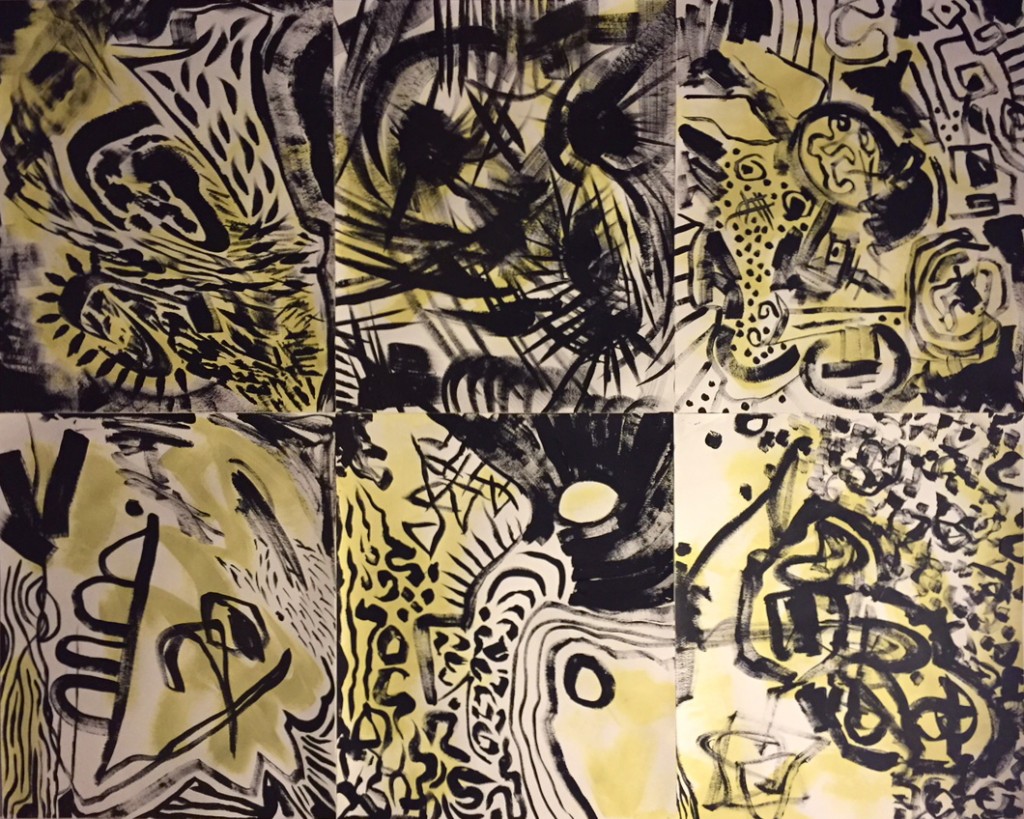 …Or is it the best? I guess that depends on your criteria, and right now mine are based on a whole other set of parameters.
It's made up of six separate paintings, painted quickly one after the other on sheets of drawing paper and then taped together. I make a lot of
these very fast black acrylic paintings when I don't know what else to do, in between making ones where I actually try.
I started painting this batch tonight.
Up until today I had been on a roll, which happens to me only rarely, but when it does it's like candy.
I'd just finished a slew of paintings on canvas that I liked. Boom boom boom, straight in a row.
And then I didn't want to paint another.
I came to a full stop. Couldn't make myself start the next one.
The funny thing is that I had finally become more able to jump in and go. More confident about where to put the lines and how to make the shapes so that they would make sense. More skilled at pulling things out of the tank if the painting was going wrong.
That's generally an indication that a painter is onto something, that they are making headway. An encouraging sign.
After staring at the expressionless face of the new blank canvas until my brain ached, I realized that what was stopping me was the thought of having to make it "good." The pressure to stay on a roll.
I had the overwhelming sensation of being trapped by my own expectations.
So I decided to go in the opposite direction and paint something horrible.
I put away the canvas and pulled out a pad of paper. By the time I finished my sixth "chaos painting," I was in a completely different place.
The first three were scrawled in a fit of sheer frustration.
The second three were birthed out of some weird burst of joy that came bubbling out of nowhere.
When I taped them together, I mixed them up…I dare you to try and guess which are which.
Truth is, if I hadn't numbered them on the back, I couldn't tell either. Because they all look happy to me now.
And that blank canvas is suddenly looking much more cooperative.