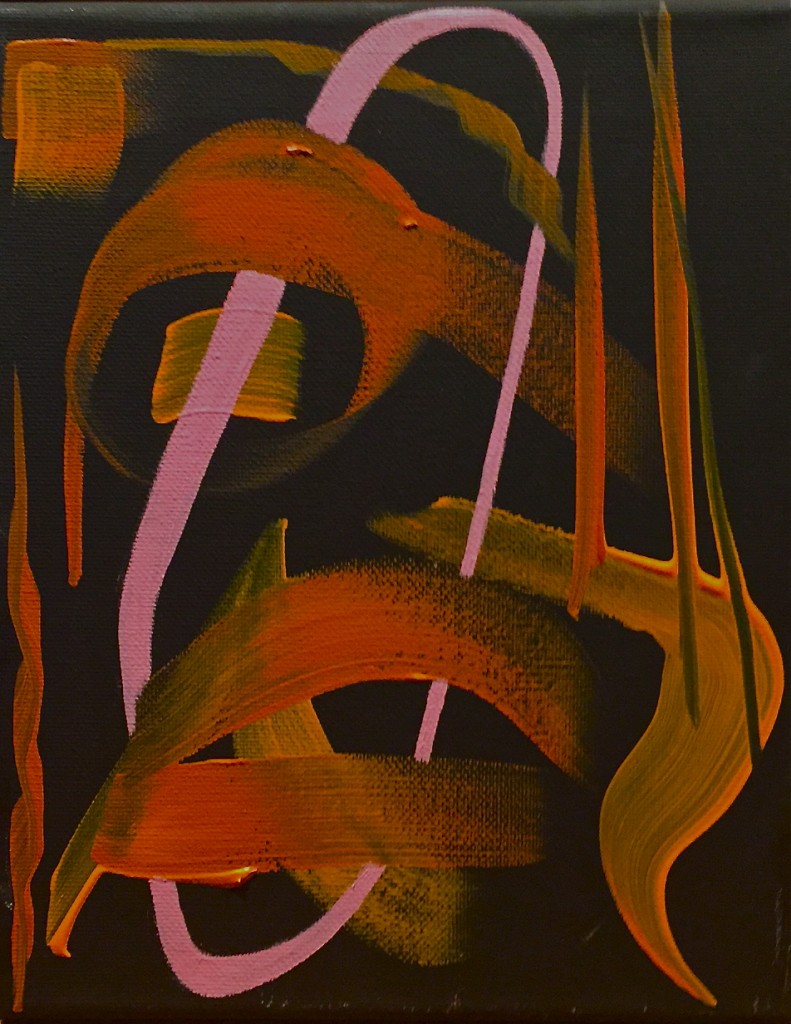 This time of year, it can be enlightening to assess where you've been compared to where you are now, to see whether things are moving in the right direction. Looking back at where I was before I began painting in February of 2014, I find it hard to even comprehend how much has transformed.
I don't know if my paintings are necessarily any "better," but my entire existence here on Planet Earth certainly is. The process of bringing something real and tangible and creative into the world has expanded my life and my self in unbelievable and magnificent ways. I want that for everyone, and I am convinced that when anyone begins to create what it is they truly want to create, incredible things will happen.
As I've struggled and worked to overcome and offload the negative programmed baggage that caused me to doubt myself, hesitate, and fear trying things I wasn't already good at, I've had to do a lot of talking to myself in order to keep going.
One of the ways I do that is by writing myself notes, which I display prominently on my easel so I that I see them every time I step up to paint.
Here are some of the things I've reminded myself of over the past two years. They were written about painting, but they really apply to anything it is that you're trying to create or accomplish.
They helped me, maybe they'll do something for you.
. . .
WHAT OTHER PEOPLE CREATE HAS NOTHING TO DO WITH ME.
WHAT OTHER PEOPLE THINK ABOUT WHAT I CREATE HAS NOTHING
TO DO WITH ME.
EVERY MINUTE SPENT CREATING CONTRIBUTES TO MAKING PROGRESS.
EVERY MINUTE SPENT NOT CREATING CONTRIBUTES TO STAYING THE SAME.
I MAY NOT NOTICE MYSELF IMPROVING, BECAUSE IMPROVEMENTS OFTEN SHOW UP IN UNEXPECTED WAYS AND UNPREDICTED PLACES.
I MAY FEEL LIKE I'M GETTING WORSE, BUT THAT JUST MEANS I'M TRYING SOMETHING NEW.
THERE ARE PLATEAUS WHERE NOTHING SEEMS TO IMPROVE AT ALL.
BREAKTHROUGHS HAPPEN IN BURSTS.
GETTING DISCOURAGED SLOWS THE PROCESS.
THE IMPORTANT THING IS TO KEEP GOING.
And this, which I printed out in 24 pt. boldface type:
WHATEVER I'M CREATING IS THE BEST I CAN DO RIGHT NOW –
I CAN ALWAYS TRY SOMETHING DIFFERENT NEXT TIME.
And finally, this one which was suggested by my 12 year old…
NEVER CALL YOUR OWN WORK CRAPPY.
. . .
It's not that my notes hold any particular magic. It's about saying whatever you need to say to yourself to keep moving forward. If you can become your own support system, champion and cheerleader, it doesn't matter what anyone else thinks about what you're creating. That confidence and self-assuredness then translates to other areas of expression, and living in general.
You become the source of your own existence.
In the process, you learn that you DO have the strength to carry on, to stop holding yourself back, and to go beyond any perceived limitations or restrictions.
And then one day you look back to find that you've not only created a studio full of paintings, you've created an entirely new life.